Hose Hobbles Red Iron Chokers
Short Description:
Hose Hobbles also known Pipe clamps are used to secure ends of rotary and other high pressure hoses to guard against accident in the event of failure of hose connection.
Product Detail
Product Tags
Hose Hobbles also known Pipe clamps are used to secure ends of rotary and other high pressure hoses to guard against accident in the event of failure of hose connection.
Supply Hose Safety products like Whip socks, whip stops, Cable Chokers, Nylon Chokers and Hose Hobbles also know as Pipe Clamps.
API Standards require a minimum breaking strength of 16,000 pounds for rotary hose safety clamps.
Extensive testing on our Safety - hobble systems to assure that they meet the strict API standards.
WIDE RANGE OF PIPE CLAMPS
Our hose hobbles are offerd in both single and double bolt for both high pressure and low pressure applications. They are pinted and coated for long life and made in a almost any size to fit most all hoses on the market. We supply clamps to most major hose manufactures so we are familer with the size O.D. of most manufactures hose such as Gates, NRP Jones, Goodyear, and other brands of hose as well as clamps for smaller hydraulic hoses and low pressure industrial hose of many brands like Alga Gomma, Texcel Rubber and many others.
HOSE CLAMP / HOBBLE OPTIONS
Our made in CHINA hose clamps come in a varity of styles to choose from to fit many hose types. It is important to know the hose O.D. you are working with to get a good fit on the hose. The clamps are availiable in hose to hose, or hose to pad eye or any other custom options and configurations.
SAFETY-HOBBLE: Hose Hobble
Hose hobbles are used to mount hose restraint safety sleeves. They can be used on hose or hard wall tubing and reduce the possibility of hose whip in the event of coupling failure. Ensure anchors are rated for the weight and force of the application, follow install instructions. Must install safety sleeve onto the hose before coupling insertion/assembly.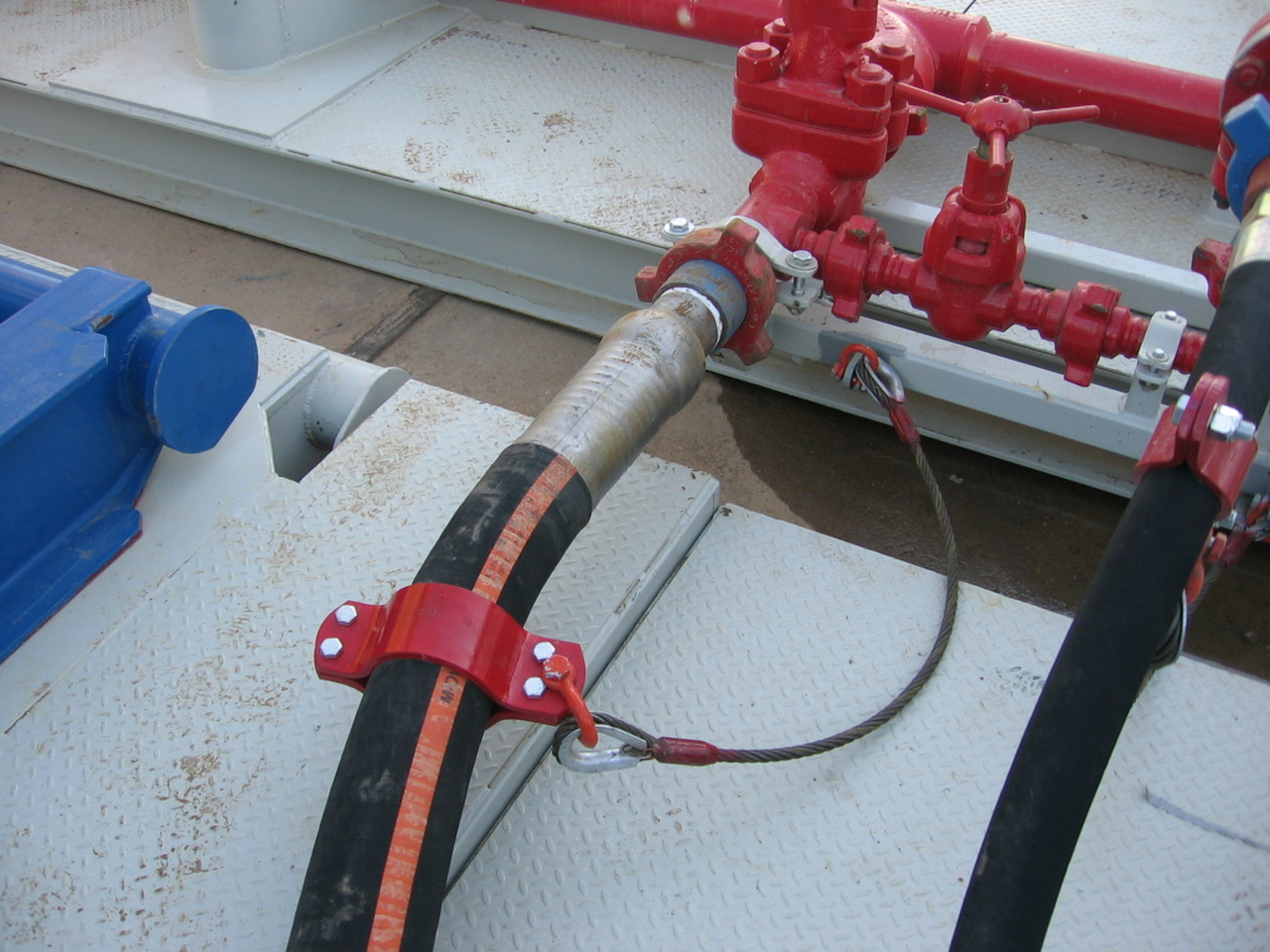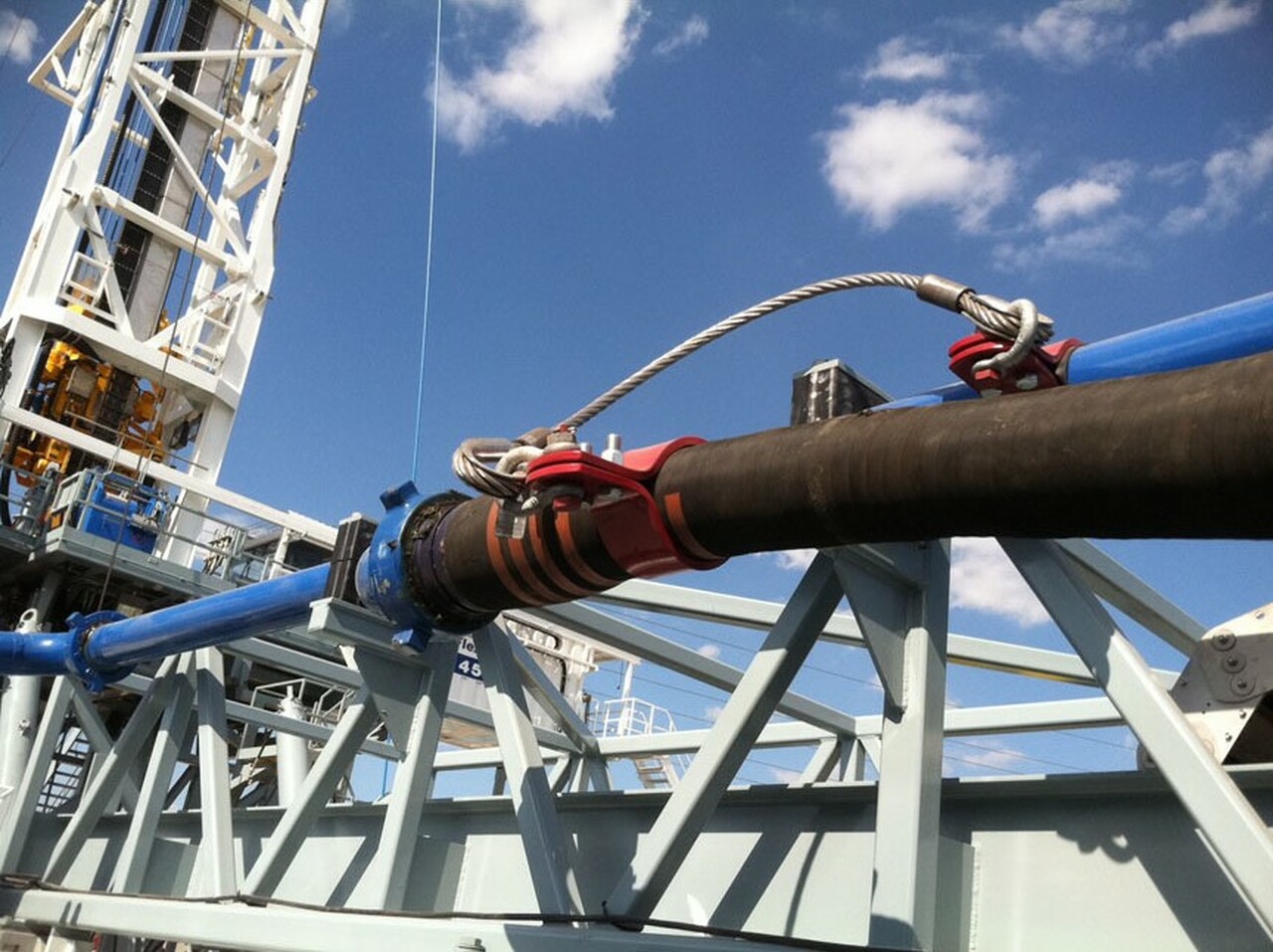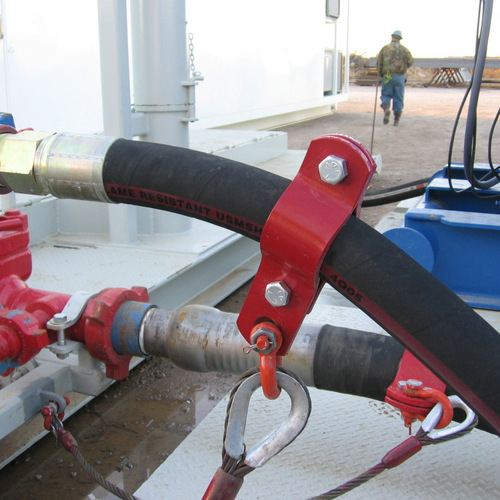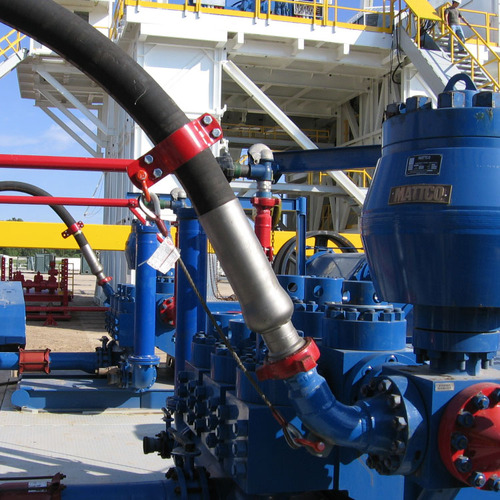 A high-pressure top-drive rotary hose ruptured under a pressure of 3000 psi. The hose fell to the rig floor and knocked down a roughneck. He was not seriously hurt, although the incident could have been potentially serious.
What caused it: The hose was rated for 5000 psi working pressure. An investigation following the incident revealed that the restraining safety clamps were not correctly placed around the yellow marker bands marked "Safety Clamp Here". Instead, the clamps were placed closer to the crimped union where the diameter of the hose is larger.
In this case the hose ruptured when it blew out of the end ferrule. As the safety clamp was in the wrong position, it did not properly restrain the hose, which passed completely through it. In addition, it was found that the safety clamps were too large to grip the smaller diameter of the hose below the ferrule.
It is the sole responsibility of the end user to insure proper sizing & placement of hobble systems.
Step 1-Measure the diameter of the hose.



Step 2-Make sure the Hobble Clamp is the proper size.



Step 3-Find proper area on hose to install Hobble Clamp. The hose should be marked approximately 12" from the crimped fitting.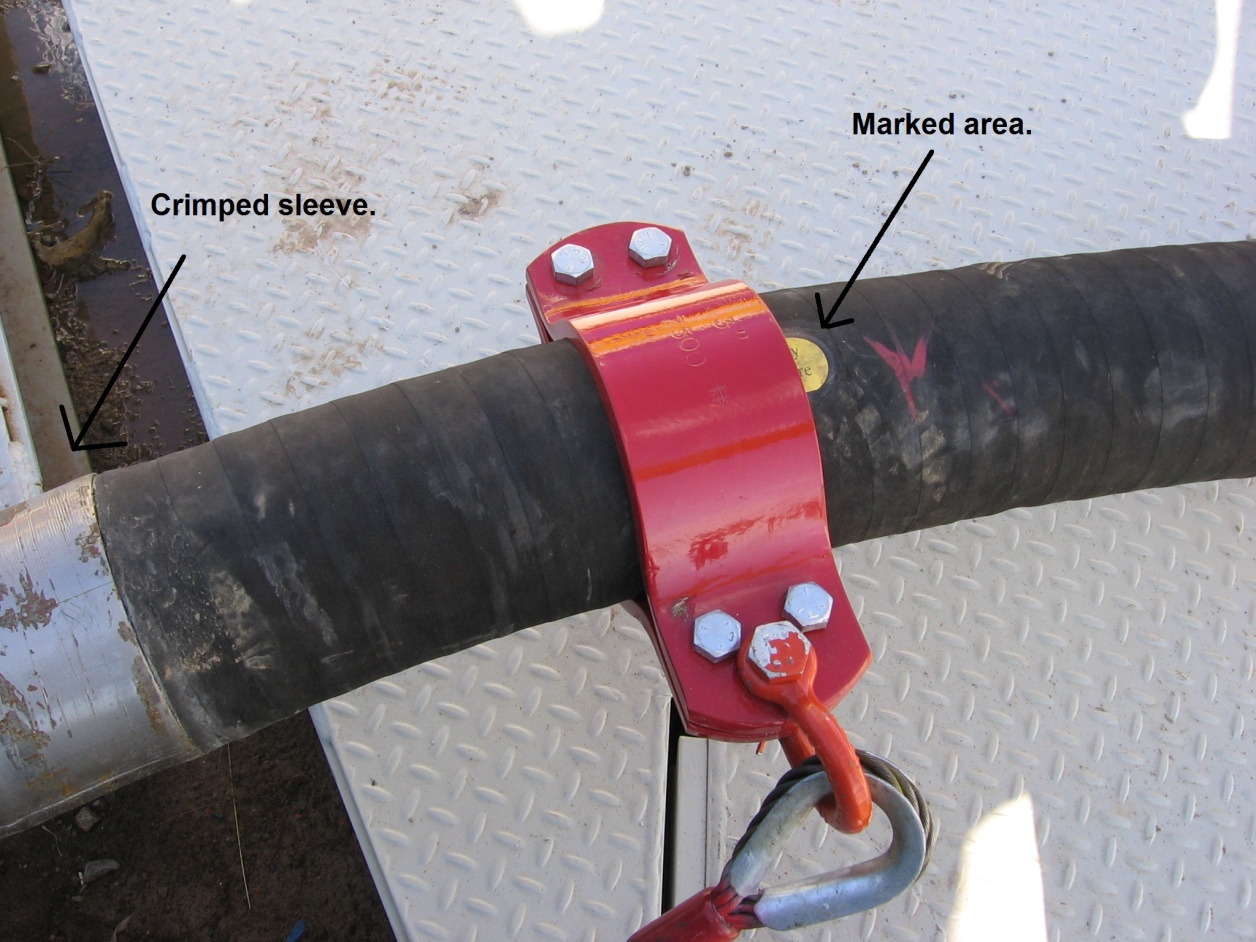 Step 4-Install Hobble Clamp, torque the bolts to approximately 60 foot pounds until clamp is firmly attached to hose.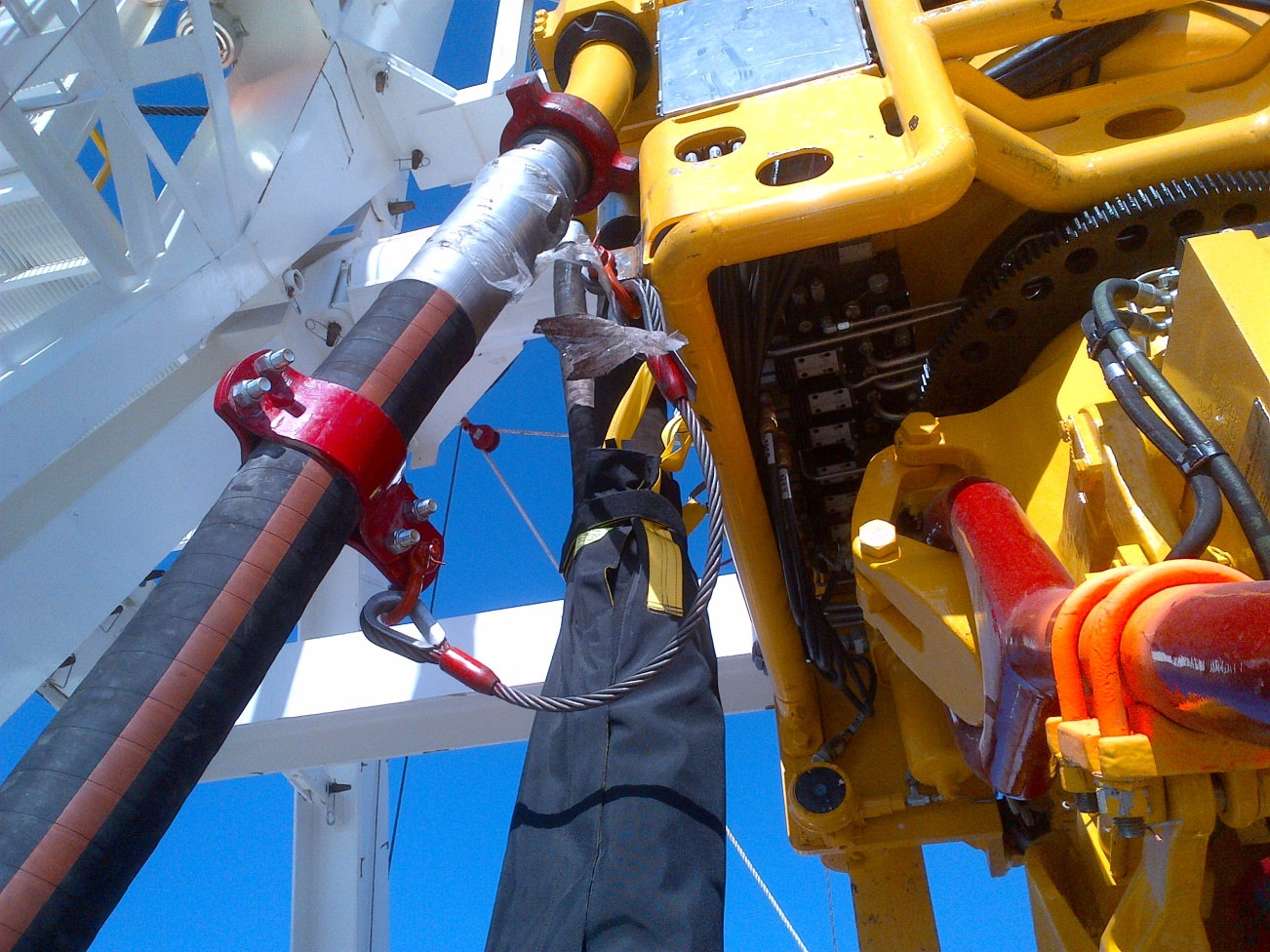 Step 5-Attach cable or chain to the Hobble Clamp, then attach other end of the cable or chain to a suitable anchoring point.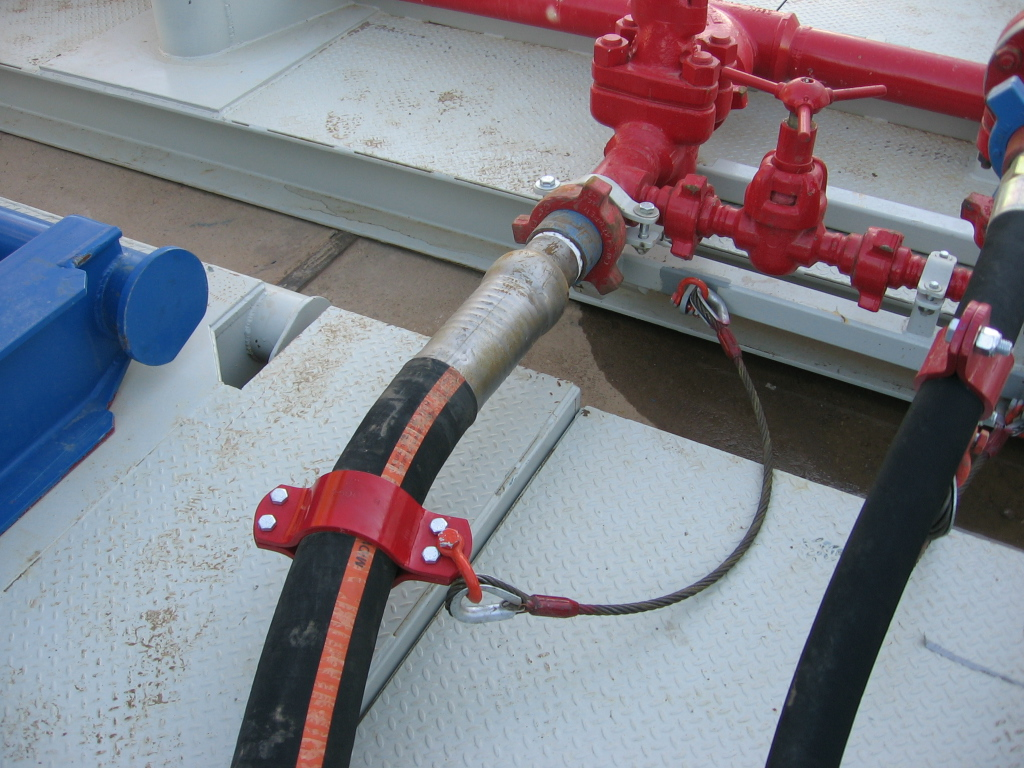 ---
---